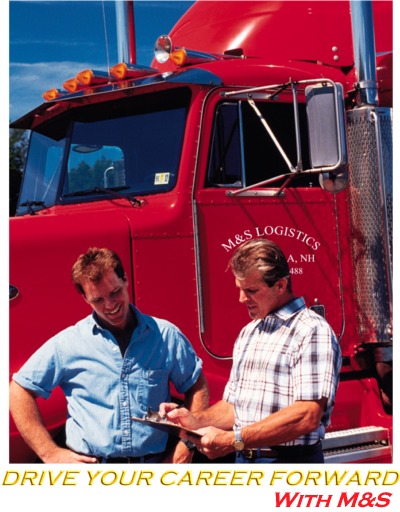 You're considering a career change, taking to the road as a commercial driver. Or you're an established commercial driver with a clean record looking for a new opportunity. Or maybe you're a professional long-hauler looking to stay on the road, but spend more time with the family. Whether you fit one of these three, or another category entirely, M&S Logistics is always seeking safe, dependable drivers to keep its fleet rolling.

M&S Logistics seeks only qualified applicants with a valid New Hampshire Class A commercial driver's license. Qualified applicants will have at least two years of commercial driving experience, as well as a clean driving record for the past ten years.


We seek drivers who satisfy the following categories of availability:
Regional: Driver is on the road most of the week, and home most weekends.

Overnight: Driver is on the road for an average of 2-3 overnights per week.

Local: Driver is home between shifts, with occasional overnight duty.

Part-Time: Driver is available for part-time coverage, possibly including evenings and weekends.
Drivers who work with M&S Logistics can look forward to the following:
A comprehensive benefits package including health and dental insurance, paid holidays and vacations, and profit-sharing opportunities through a 401(k) plan.

Competitive mileage and hourly pay.

Meal and hotel allowances for overnight trips.

Modern and well-maintained equipment.
To Apply:

Download, print, and fill out our application for employment. After filling out the application, feel free to stop by our office in Candia, New Hampshire to speak with a company representative.

For more information on requirements and availability,
please call our office and ask for Mike Leedberg.
Mike's E-mail: mikel@mslogistix.com.
M&S Logistics, Inc.
P.O. Box 128 Candia, NH 03034
Phone: (603) 647-4530 Fax: (603) 483-5488
© 2008 M&S Logistics, Inc.
Site Design By
FJG Web Design